Atelier Ayesha screenshots
Meet Linca, Merietta, and Fred.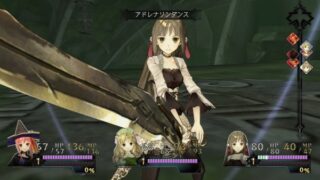 The latest batch of Atelier Ayesha: Alchemist of the Ground of Dusk screenshots highlight three new characters: Linca, Meriette, and Fred.
Linca (CV: Ami Koshizumi, Age: 20, Blood: A, Height: 160cm, Occupation: Guard/Escort Services) has been trained in combat since childhood, and has since become an escort specialist. A playable character, she comes to Ayesha's region while escorting Marion Quin. She is then tasked with protecting Ayesha.
Merietta Muir (CV: Satomi Sato, Age: 19, Blood: B, Height: 156cm, Occupation: Employee at Harry Olson's company) is a clerk and the pretty poster girl who attracts customers to one of Harry Olson's shops. She is not fond of Harry's obsession of collecting items worthless items.
Fred Rodfork (CV: Tetsu Inada, Age: 30, Blood: A, Height: 185cm, Occupation: Baker) is a baker who opens a bakery at a vacant shop in Philsberg. A muscular man, he tends to bake things in the shape of hearts and similar shapes. He gives away bread to the hungry without worrying about money.
Also in the shots are a look at the game's "System Memories" feature, and a shot of the "World Guide CD" pre-order bonus.
View the screenshots at the gallery.