Skyrim getting Kinect compatibility
Free update later this month.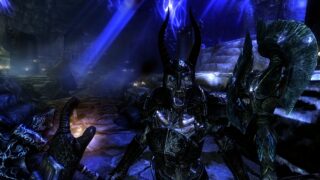 Kinect support is coming to The Elder Scrolls V: Skyrim later this month. Available for free as a title update, it will support more than 200 voice commands.
Voice commands include "Dragon Shouts, Hotkey Equipping, Follower Commands, and all Menus (Items, Magic, Map, Barter, Container, Favorites, and Skills)." You can create and load saves, and acccess menus and inventories using voice commands. Kinect support also "adds new functionality including special map functions, additional hotkey options, and the ability to sort inventory items by name, weight, and value."
A trailer for the Kinect support can be seen below.