Atelier Ayesha: Meet Webell and Yuris
Webell Voll-ErsLied and Yuris Grunden.
Dengeki PlayStation this week continues its Atelier Ayesha: Alchemist of the Ground of Dusk character reveals with two more to detail.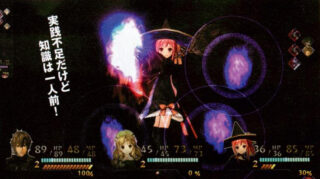 A master of magic, Welebell Voll-ErsLied is a 14-year-old witch. Described as cute and expressive, she comes from a family of witches. Boasting attacks such as "Meteor Storm" and the ability to summon elements, her only downfall is the inability to fly. She is trying to learn a way to ascend to the clouds.
Yuris Grunden is a 20-year-old hunter whose goal is to defeat a dragon and wear its scales. He looks a bit like Sterk from Atelier Totori.
Also shared this week are new details on the battle system. You're able to move Ayesha and company this time via a move command in the battle menu. The closer you are to the enemy, the more damage you can deal. However, enemies move as well. So don't be surprised when one sneaks up on you with a chase attack.
Thanks, My Game News Flash.