Obsidian hit with layoffs, next-gen project canned
Rumored to be 'North Carolina' for next Xbox.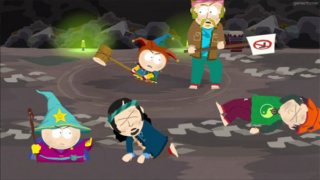 Dungeon Siege III and Fallout: New Vegas developer Obsidian Entertainment was hit with layoffs today, sources are reporting. 
Andre Nguyen, who is animating the studio's upcoming South Park RPG, posted on Twitter today: "Fellow Obsidianites who were laid off today…I was lucky, but I've been on the other end of that. Your talents will take you far!"
On the developer's forums, fans have compiled a list of all those let go based on updates to each staffer's LinkedIn resume.
Joystiq was tipped off on the situation, which resulted in the cancellation of "a future next-gen project" at the studio.
"Another project canceled, this time for a future next-gen project and the layoffs impacted that team, plus the existing South Park team," the tipster wrote. "Approximately 20-30 people from all disciplines, including one person who started yesterday, as well as one who started last week."
According to Kotaku, that cancelled next-gen title was codenamed North Carolina, and was in development for the next Xbox, to be published by Microsoft.
When addressing the company during a meeting yesterday afternoon, the normally loud and vibrant Obsidian CEO Feargus Urquhart was reportedly "choked up" and "chillingly quiet while informing staff that North Carolina had been cancelled."