Nexuiz now available on Xbox LIVE Arcade
Arena FPS comes to Xbox 360.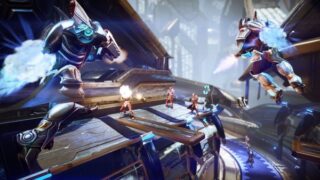 Nexuiz, Illfonic's CryENGINE 3-powered multiplayer shooter, is now available on Xbox LIVE Arcade for 800 Microsoft Points, publisher THQ has announced.
"Making Nexuiz has been a blast for our team," said Kedhrin Gonzalez, Creative Director at Illfonic. "We've been fortunate to work with some great tech in CryENGINE 3, had fantastic support from THQ and Machinima, and we're really stoked to have been selected as part of Microsoft's House Party program."
An update to the 2005 arena FPS, Nexuiz features over 100 game-changing power ups (Dynamic Mutators), nine arenas, a single-player mode against bots, and an online mode against human players in four-on-four multiplayer matches.
"We're thrilled with what Illfonic has achieved with Nexuiz," said Carl Jones, Director of Global Business Development, CryENGINE. "We're proud to see that Nexuiz is the first CryENGINE 3 powered title to be released outside the Crytek family of studios, and the fact that it was achieved by such a relatively small team goes to show how effective CryENGINE can be in the right hands."
Queue up the full game or trial, which weighs in at just over a gigabyte in size, here.
Nexuiz will be released across PlayStation Network and PC later this spring.