The Witcher 2 pre-order details, limited edition, and CGI trailer
Available in Enhanced or Dark Edition.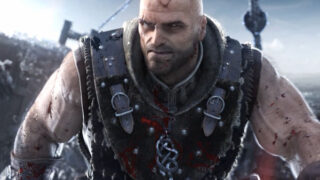 Warner Bros. and CD Projekt RED have released a new, CGI trailer for the Xbox 360 version of The Witcher 2, and have detailed the limited edition and North American pre-order details. 
Three retailers are participating in pre-order bonuses for The Witcher 2. Here are your options:
Amazon – exclusive digital comic book.
Best Buy – exclusive t-shirt.
GameStop – exclusive wolf head keychain.
You will be able to purchase the game in two forms: the Enhanced Edition or Dark Edition. Here is what you will get in the former:
Original soundtrack audio CD with in-game music.
A map of the game's world.
Quest Handbook – The Witcher 2 quest handbook for both novice and experienced role-playing fans.
In the Dark Edition, you will get:
Making-of DVD – all the cinematic materials related to game – trailers, dev diaries, gameplay footage, interviews and making-of video.
The Witcher Medallion – a wolf head metal medallion on a chain.
Artbook – Extensive, hardcover, 232-page documentary of game's graphical assets with descriptions. Includes concept art, cover renders and stories behind art of The Witcher 2.
Stickers -three stickers with Witcher 2 graphics.
Dark Edition Box – an elegant, thick, cardboard box to hold all your valuable Dark Edition contents.
Images of each set can be seen at the gallery.
Watch the new trailer below.
https://www.youtube.com/watch?v=/PLC7dmRrAZU