Ultimate Marvel vs. Capcom 3 Vita features detailed
Use the touch screen as your controller.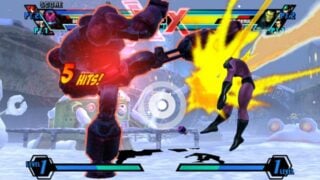 Ultimate Marvel vs. Capcom 3 for PlayStation Vita will utilize both the system's touch and Near features.
Rather than use the controller, players can opt to control the game entirely with the touch panel. Drag your finger forward or backward, and your character will move in that direction. A flick in either direction will have the character dash. Drag your finger downward to duck, and flick up to jump. You can easily tap out for new characters by touching and holding their icon on the top left. Simply tapping the icon will call in for an assist. To attack, tap anywhere on the screen besides the character icons. To use your Hyper Combo, touch the Hyper Combo gauge.
For Near, the game will allow you to exchange gold herald colors with other players. And with Wi-Fi, you can play and watch online matches.
View screenshots of these features at the gallery.
Ultimate Marvel vs. Capcom 3 is due next week for PlayStation Vita in Japan.