Joe Danger: Special Edition coming to XBLA
Xbox version adds 'a thousand changes.'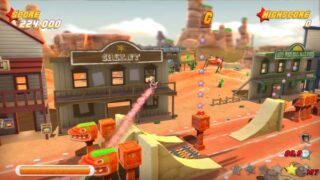 Joe Danger, released in June 2010 for PlayStation Network, is coming to Xbox LIVE Arcade. Developer Hello Games today confirmed Joe Danger: Special Edition for the platform, which adds "new environments, gameplay modes, characters—lots," according to studio managing director Sean Murray.
"I think we knew that Joe Danger was a hard game, but it could be frustrating [too]," Murray told Joystiq. "I think we've really changed that, it's a much more joyous game now, through like a thousand changes big and small.
"I'm not sure it would be possible for someone to complete in under 30 hours now… the game is huge."
Joe Danger: Special Edition will be published by Microsoft Studios.