Sony's considering big changes for PlayStation Store purchases, if a supposed leaked survey sent out by the company is to be believed. Obtained by JStationX, the survey asks takers their thoughts on significant possible changes to the online marketplace.
One of the questions asked takers to re-order twelve possible new features from most-preferred to least-preferred. They include the likes of a loyalty program, where those who buy more games get greater discounts, the ability to download games from anywhere, and the ability to return downloaded games.
Another question, cited as PlayStation Vita-specific, asks takers how appealing a number of options appear in relation to downloading games, rather than purchasing them at retail.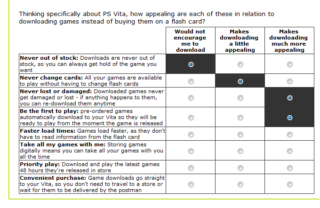 Considering we have no confirmation that the survey is real, take this with a grain of salt.