3DS eShop: DLC, demos, more on the way
eShop getting major updates.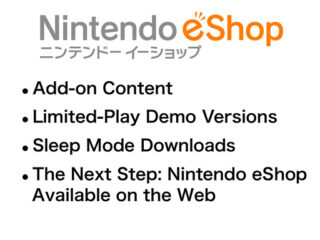 A future 3DS update will add downloadable content compatibility, demo downloads, and sleep mode downloads to the system's eShop. Additionally, Nintendo is planning eShop access on PC.
Nintendo president Satoru Iwata detailed the coming features during Nintendo's quarterly fiscal call today. Read the full report here.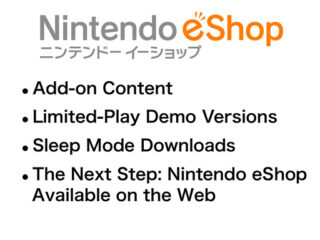 Downloadable Content
"Several new functions will be added to the Nintendo eShop," said Iwata. "For one thing, after a software title is launched, content can be added to it via the Nintendo eShop. This is a feature a number of software creators have been looking forward to. With the Nintendo 3DS system update this time, we can create that desired circumstance, so we should see an increase in the number of applicable software titles that will be launched from now on."
Downloadable Demos
"Another addition is the ability for the software publishers to provide the owners of Nintendo 3DS systems with demo versions of their software, for which they can put a limit on the number of trials. As you may know by now, the player reviews available at the Nintendo eShop have high credibility since only those who have played the subject software for one hour or more are eligible to cast a vote.
"More than one million reviews have been contributed to date worldwide. By combining this existing review mechanism with the demo versions, we would like to continue our endeavors to expand the number of opportunities for consumers to be able to notice the potential and appeal of new software titles."
Sleep Mode Downloads
"In terms of its usability, we know that there still are several issues with the Nintendo eShop. We have made several improvements for this time. For example, software downloads can be done when Nintendo 3DS is in sleep mode, which will lessen the need for the users to patiently wait by while downloading several software titles at once or while downloading software with a large memory capacity."
Nintendo eShop Available on the Web
"Although this next feature is not going to be available with the next system update, we are now preparing for the Nintendo eShop to be available on the Web so that you can access it via PCs or smartphones too. As of now, the information available on our Nintendo eShop, including the reviews that I mentioned just now, is only available at the Nintendo eShop on Nintendo 3DS and it does not have a great affinity with the social media which are currently being used as a means to spread information. In other words, even if a software title receives an incredible review, majority of people will not know about it unless they access the Nintendo eShop with their Nintendo 3DS system.
"We would like to solve this issue by making the Nintendo eShop accessible via PCs and smartphones as well. At the beginning, you will not be able to directly purchase software from your PC or smartphone. Instead, you will need to take a photo of a QR code at the Nintendo eShop by using the camera of your Nintendo 3DS. The Nintendo 3DS will then open that specific page of the Nintendo eShop. That function is already included in the upcoming system update for the Nintendo 3DS. In the future, we will make it so that you will be able to purchase software by using your PC or smartphone."