Battlefield 3 is two discs on Xbox 360
You'll have to get up at least once.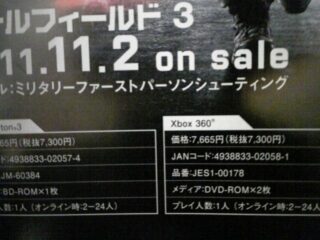 We knew Battlefield 3 would be big, but we didn't think it'd be two-discs big. A poster for the shooter, found in what we assume is a Japanese game shop, confirms the Xbox 360 version will ship on two DVDs.
The game goes on sale on November 2 in Japan, following a launch in western territories a few days earlier on October 25. It'll run buyers 7,665 yen.
Thanks, Hachimaki.