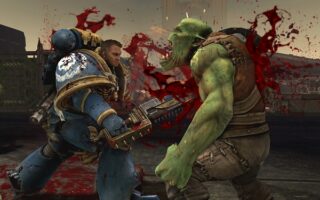 THQ will release a demo Relic Entertainment's third-person shooter Warhammer 40,000: Space Marine before it launches next month. The demo will launch on Xbox 360 and PC on Monday, August 23 and on PlayStation 3 on Tuesday, August 24. Those who've pre-ordered the game on Steam will receive exclusive early access to the dem on August 18.
The demo features two diverse areas. One area pits the player against a horde of Orks outside the gates of a munitions factory, allowing the player to put to use six "devastating" weapons. The second area lets the player test out the Jump Pack sequences, where Captain Titus "takes to the skies to rain death from above."
The full game's out September 6, 2011.