Dungeon Defenders dated for XBLA, PC
Cross-platform play begins October 19... for PC.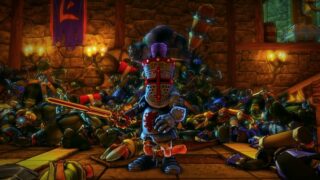 Dungeon Defenders, Trendy Entertainment's cross-platform tower defense game, will launch on Xbox LIVE Arcade and PC on October 19, the developer has announced. A PlayStation Network release date "will be announced soon," they said.
The game utilizes GameSpy's Open program, which allows for cross-platform multiplayer functionality between PC, iOS, Android, and PlayStation players.
"It's been a long time coming, but the day is finally here to announce when we'll be unleashing the full console version of Dungeon Defenders upon the masses, and we couldn't be happier," said Jeremy Stieglitz, COO and co-founder of Trendy Entertainment. "The console version of Dungeon Defenders has more content, more depth and more challenge than many full retail boxed games, so we can't wait to get it into players' hands so they can experience this epic role playing game as it was intended to be played."
A new trailer for the game can be seen here. Check out a new set of screenshots at the gallery.