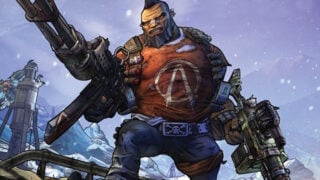 The first bit of Borderlands 2 details have come out of the latest issue of Game Informer.
Co-op will stick to four players, the magazine hints. A new set of protagonists will star, with the four characters from the first game becoming non-playable characters. The bearded dwarf fellow (above) is Salvador, the Gunzerker. His special ability allows him to dual-wield any weapon. You'll take on dynamic story missions; for example, during a rescue mission, if you take too long and fail to arrive on time, the story will shape to your failure.
A new element, known as Eridium, has been added. While it's not a weapon, it can be applied to other elements, such as guns or vehicle, to improve their stats. It's also used as a form of currency.
Enemies will take on a much more varied form. AI's been greatly improved. Bandits can access their own type of weaponry. Enemies, in general, are more responsive and interact better with each other. Non-playable characters are also improved; they'll be up and about, moving around, offering players interactive dialogue.
Weapons from the first Borderlands will not appear in Borderlands 2. Gearbox is scrapping the weapons from the first game in favor of all-new weapons. Each gun manufacturer in-game will have their own themes — unique styling, colors, and personality, that is. Weapons will have custom decals and enhancements, as well. Some pickups will have temporary buffs. such as the cores in the original game's General Knoxx expansion. The magazine makes no mention of gun crafting.
Vehicles are back, and with variety. One vehicle shown in the magazine is called the "Bandit Technical." Another vehicle was shown with four seats.
The skill tree in Borderlands 2 will be similar to that in the first game. It uses a traditional 3-branch system.
If it wasn't expected, Claptrap is back in some shape or form. On that note, the game is promised to be of epic scale.
Stay tuned.
Thanks, Gamenyusu.