Halo: Anniversary to include Halo 4 beta?
Wouldn't be surprising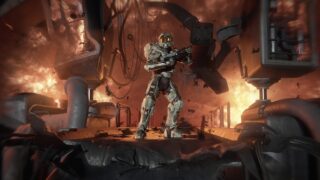 During a Halo: Combat Evolved Anniversary showing at San Diego Comic-Con last weekend, 343 Industries confirmed a Halo 4 beta invite might be included with the game, according to a Tiscali Italia report.
As the team went past the menu screen, the "Extras" option did not go by unnoticed. Questioned on the subject, 343 said the section could accommodate a Halo 4 beta, but urged fans to await confirmation from Microsoft.
Tiscali suggests confirmation could arrive as soon as Gamescom in mid-August, or PAX Prime's Halo Fest in late August. Stay tuned.
This report is based off an news story translated by Google Translate.