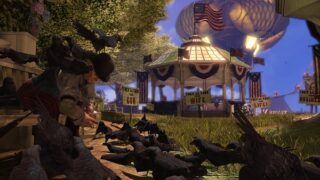 In an era where a game usually looks or plays better on a certain platform — whether it be PlayStation 3, Xbox 360, or PC — Irrational Games is aiming to make their upcoming sequel, BioShock Infinite, equal across each. Speaking to AusGamers at E3, BioShock Infinite lead artist Shawn Robertson told the site that there's no "better platform" for the upcoming title.
"No platform's going to be the 'better platform,'" said Robertson. "We certainly.. if you look at what we did with BioShock One when we released on Xbox and PC, we had different designers working on different elements for PC versus Xbox — treating it like working to the strengths of each console. So we're going to be releasing on PS3, Xbox and PC in 2012, so we'll have different people thinking about the different strengths or weaknesses of each console."
BioShock Infinite is out in 2012.