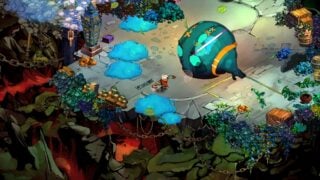 Bastion's piqued my interests ever since it's initial announcement back in September last year. At PAX East this past weekend, I had a chance to experience the upcoming Xbox LIVE Arcade title hands-on. Being a sucker for sprites and surreal/stylish worlds (Digimon World 3, anyone!?), I went in with high expectations.
The game has a simple premise. You, a nameless kid boy, awaken on a floating piece of land, the world once surrounding you now gone. A cataclysmic event, known as the Calamity, has wiped out your world, and as one of the few survivors, it's your job to rebuild and recreate the fantasy realm you once knew.
https://www.youtube.com/watch?v=wTojdCqtqqs
The first part of our gameplay session
The world is recreated by the kid's movements. Walking toward the edge of the floating land will automatically regenerate the fallen pieces, in which the kid may then walk upon. There's plenty of destructible objects and such in the game realm, including the 'fence' that surrounds the recreated world.
At the beginning of the game, you only have one task: to get to The Bastion. The Bastion is the city's to-go place in case of emergencies. On the way there, towards the end of the game's opening stage, you'll find something known as a core. This core is the first of many in which the boy will find and return to The Bastion. These core pieces are key objects in reforming the broken-up world.
Reformation isn't all peachy keen, though. During their mission, players will come across enemies such as Scumbags and Gasfellas whose only goal is to halt the player short. These are blue creatures who, depending on the type, will use weapons, goo, or other types of combat against you. Of course, the kid isn't without his own set of weapons. You'll have a hammer, bow-and-arrows, and other abilities to use against the blue creatures. There's a very useful dodge-roll ability, too, which I utilized a plenty.
I tried on two different types of bows, one of which shoots less damage-inducing arrows at a rapid pace, and another that shoots more damage-inducing arrows at a much slower, charge-it-up pace. The choice of which you'd like to use is solely based on your preference, so having the option's always nice. I stuck with the more destructive bow because I like to blow shit up.
Then there are Spirits, which give the kid better attributes depending on which you choose to equip. The three I had the option of equipping during my hands-on either boosted my health, absorbed more stray fragments (enemy drops), or gave me an increased chance at achieving critical hits. As you level up, you'll be unlock more slots for to equip extra Spirits.
The kid's able to customize his load-out through Distilleries and Arsenals he'll come across throughout the stages.
https://www.youtube.com/watch?v=K6QQVo6ts5Y
The finisher teases its summer release
Other than it's Diablo-esque gameplay, one of the game's star features is its never-off narrator. Without him, you wouldn't know what the hell you were doing. As you awake on a floating bed at the start of the game, he guides you, and from that point, he'll never stop. It's constant narration. Find a new item? The narrator will probably say something along the lines of, 'The kid found something with a shiny glow. Didn't know what it was.'
There was one point during my session where I fell off the floating land and the narrator said something similar to, 'the kid fell off and died,' and, after a short pause, added 'just kidding!' The player then came back from the dead. I laughed (or lol'd, if you're a gangster). He really brings life to the torn-apart world of Bastion.
At first, I thought the narrator was just some mysterious voice. But he isn't. He's actually a character, and survivor of the Calamity, that you'll meet in-game. When you get to The Bastion after the first stage, which becomes your hub world, where you'll return cores and select stages, you'll find him standing there, ready to answer your questions face-to-face.
The gameplay speaks for itself. I experienced so much during my 18 minutes of gameplay time. It's certainly BIG for a downloadable title crafted by a small team of garage developers, and more than certainly promising. Hell, Irrational Games studio head Ken Levine even told us its one of the most interesting games he saw at PAX. If our word's not good enough, take that of the BioShock boss man, himself.
Bastion is out for Xbox LIVE Arcade this summer.