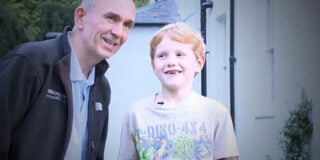 In a rather silly video release, Fable series creator Peter Molyneux films his son Lucas on camera asking Valve to release Half-Life 3.
"I'm really looking forward to Half-Life 3, but I know you've got Portal 2 and a load of other games on your hand," Lucas said in the clip, "but it's been a long time I've been waiting. I've been trying to keep myself entertained with Portal and everything and I think you make really good games and stuff and my dad does as well."
That's when Peter Molyneux comes in and quizzes his son on who makes better games. You'll see him come in the camera afterward telling viewers to buy Fable III. Like I said before, the whole thing is pretty silly, but an entertaining watch.
See the video in full below.