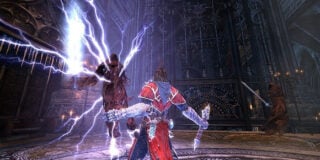 Ten new screenshots for Konami's upcoming Castlevania: Lords of Shadow have been released. As usual, they look fantastic. You'll see Gabe making his way through a couple of obstacles (some big in size), electrocuting foes, and strangling enemies.
The game's out October 5 for PlayStation 3 and Xbox 360 in North America, following a European release two days later on October 7.
Get all the new screenshots in full at the gallery.