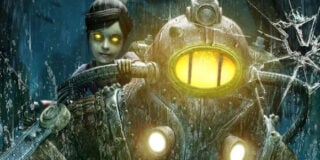 2K Games has announced the latest addition to BioShock 2 today, with the upcoming singe-player story-based downloadable content 'Minerva's Den'. It'll have players in the role of a new character who's teamed up with Brigid Tenenbaum to take down a dictator in a key area of Rapture.
"Minerva's Den is a substantial addition that will give players more of what they're looking for: more story, more narrative, more gameplay and more of Rapture," said Christoph Hartmann, president of 2K. "The core team has created an exciting product that further enhances the mystery and allure of the world of Rapture. Minerva's Den will be a fitting conclusion to the BioShock 2 saga."
'Minerva's Den' will have players exploring the Rapture Central Computing area, a brand new area to the Rapture world. It promises more splicers, upgraded security bots, and a brand new type of Big Daddy. It boasts a "new twist" to the BioShock 2 story.
No word on its release date. When we have more, we'll let you know.