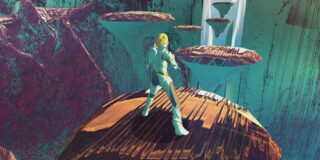 Ignition Entertainment has sent out the first screenshots of their recently announced action title El Shaddai: Ascension of the Metatron today.
The game is being designed by Sawaki Takeyasu, who's worked on both Devil May Cry and Okami in the past, and directed by Masato Kimura, who's worked on many Capcom and Nintendo titles including Resident Evil, P.N.03, and Super Mario Galaxy.
The game features unique visuals, reminiscent of watercolor drawings, and has a glowing feel to its surroundings.
Players step in the shoes of Enoch, an angel sent to Earth to intercede between God and the angels that have fallen to Earth's grounds. As God is angry with the amount of fallen angels, he is planning a world-spanning flood. Enoch must prevent this from happening by finding and capturing these fallen angels.
Check out the screenshots at the gallery.