SOCOM 4 announced for PlayStation 3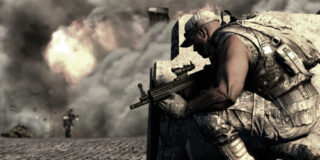 Zipper Interactive, developers of the recent MAG as well as past SOCOM games, has announced SOCOM 4 today. This appears to be the "surprise Sony sequel" that will make its video debut on GameTrailers TV tonight.
SOCOM 4 will retain the pillars of previous SOCOM games like "team work, authenticity and innovative online play", but also bring along new experiences.
Zipper claims "you've never played a SOCOM game like this."
The story takes place ins South East Asia, where a revolutionary army has taken control of one of the world's most important waterways. With a threat towards directed at the economy, it's up to players as the Ops Com, to take it back.
SOCOM 4 comes with a full single-player story mode, an online mode with matches up to 32 players, both with a promise that "the realism of the experience will be second to none."
The trailer debuts on GameTrailers TV tonight. The first three screenshots can be seen at the gallery.
SOCOM 4: It's Official! [PlayStation.Blog]