Xbox 360 Avatars Playable In Guitar Hero 5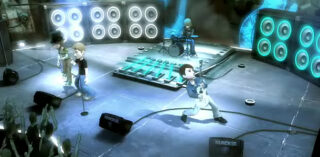 Xbox 360 Avatars will have their chance to shine on stage come the release of Guitar Hero 5, Activision has announced today. The Avatars will be playable characters banging that drum or playing those strings in the upcoming Guitar Hero game.
Guitar Hero 5 comes packed with 85 tracks. Read on for the a trailer of the Avatars rockin' out.
XBOX AVATARS TO ROCK GUITAR HERO® 5 AS PLAYABLE CHARACTERS

Guitar Hero® fans will soon be able to take center stage and become the rockstar of the show by playing in-game as their own Xbox Avatars in Guitar Hero 5.

Friday 31st July/…When fans take home Guitar Hero 5 on September 1, they'll be able to import their Avatars, choose their instrument and play along with their personalized characters rocking out to any track on the epic 85-song set list. Taking full advantage of the latest technology available from Xbox LIVE, gamers can choose their band mates and mix and match their Xbox Avatars with Guitar Hero favorites like Judy Nails, Axel Steel and Lars Ümlaüt, or even rip it up alongside in-game talent. Xbox Avatars will also get a Guitar Hero makeover in the game's Create-A-Rocker mode, where players can further customize their creations with exclusive Guitar Hero clothing and accessories to ensure they look performance-ready.

Guitar Hero 5 features a wide variety of the hottest rock 'n' roll bands and will be the most rocking Guitar Hero game yet with new social and interactive features. The entire Guitar Hero 5 set list is at players' finger tips from the start, featuring genre-defining hits from more than 80 of the biggest rock artists and bands of all time, including The Rolling Stones, The White Stripes, Kings of Leon, Tom Petty, Bob Dylan and Vampire Weekend, plus more than 25 artists from a variety of rock music genres that will be making their music video game debut. Players take complete control as Guitar Hero 5 allows gamers to personalize and customize how they experience music by being able to play with any in-game instrument combination — multiple vocalists, guitarists, bassists and drummers, in any game mode. With the game's all-new Party Play Mode, getting the band back together has never been easier. Players can now jump in or drop out of gameplay seamlessly, without interrupting their jam session. Elevating the Guitar Hero series to new heights with unmatched social gameplay, an enhanced style, and new in-game artists, Guitar Hero 5 features new surprises and challenges that will fire-up long-time fret board fanatics and create a new generation of addicts.

Guitar Hero 5 is rated "T" (Teen – Mild Lyrics, Mild Suggestive Themes). For more information about Guitar Hero 5, please visit gh5.guitarhero.com.