Raiden Revealed for Next Metal Gear in Kojima Interview [Update]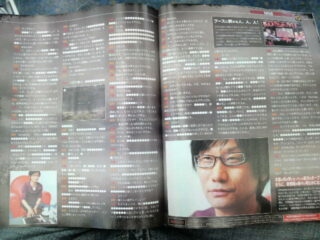 Update: According to PSI, whom have translated the article, a Metal Gear Solid for both PSP and PS3 will be released that will be connectible with each other. The game will take place seven years after the events of Metal Gear Solid 4. The Big Boss character in the scans is not actually Big Boss but his most recent clone, who's said to have played a role in Metal Gear Solid, Metal Gear Solid 2 and Metal Gear Solid 4. Over the last seven years his aging has been rapid. That's all we got out of the translation.
Original: The countdown site for Kojima Productions' next game has recently updated with an image of Metal Gear Solid's Big Boss. Now, a new interview with Kojima in the latest issue of Famitsu magazine has the image of Big Boss and Raiden (it could also be Gray Fox).
The interview, titled "Director Kojima Interview With Tons of Blanked Out Words: Talking The Latest MGS", contains little information on the next Metal Gear Solid since Kojima says at the end that it's only okay to publish the interview if Famitsu blanks out all the important words. Those are what all the white dots are for.
Just stop teasing us, Kojima, and force us to wait until E3, that way we won't be going as crazy until then. Read on for the scans.