Metro 2033: The Last Refuge Will Be Visually Awesome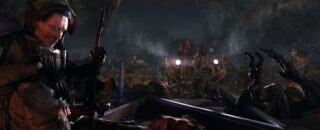 Do you remember Metro 2033: The Last Refuge for the PlayStation 3? It was revealed way back in 2006, then we've seen neither arm or leg of the title. However, developer 4A-Games done a new interview recently, saying that the games visuals are looking very high-end.
4A-Games creative director Andrew Prokhorov spoke with EvilGamerz discussing how their 4A-Engine would allow the game to be eone of the most visual first-person shooters to release.
"There isn't a single static light source; basically, light bulbs shake and break," said Prokhorov. "The number of light sources in a frame is limited by common sense, not by programmers. But fully dynamic lighting isn't an end in itself; it allows us to create the game in the process of playing it, without wasting time on recalculation of lightmaps, shadows, and other stuff. We also use visualization technology to give the game a film-like image, and we're adding 64-bit HDR with eye adaptation, depth of field, motion blur, and PhysX."
The game puts you in the position of a man named Artem, who is a young soldier who must get to Polis, an underground city, to warn them of incoming attacks from mutated humans calling themselves "The Darkness". It's supposed to give us a realistic feel as the non-playing characters will live out their daily lives as normal people.