Naruto: Ultimate Ninja STORM First Impressions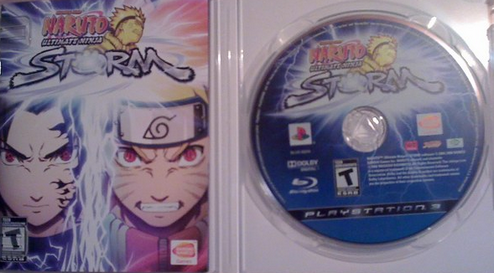 Everybody loves a good ninja, and Naruto is no exception. Starting up my copy of the game, I was ready to get into the "Ultimate Mission Mode", but was greeted instead by an installation screen which took approximately 15 minutes to install 3991 MB of data onto my PlayStation 3's hard-drive.
After more space was eaten out of my console, the Bandai Namco and CyberConnect 2 logo's showed themselves, followed by an awesome introduction video, and I was ready to begin playing. I selected "New Game", then "Ultimate Mission Mode" and hopped to it.
The story goes from the first episode to the 135th, meaning if you've never watched Naruto you'll still get enjoyment out of the title, because you'll learn the story easily as you play. So after the introduction of the fourth Hokage sealing away the nine-tailed fox, we see Naruto and Iruka sitting at the Ramin Noodle shop, eating noodles. The episode introductions are just like that in the show.
After the opening, you'll be standing in the Leaf Village. The village is huge and looks exactly like the village on the show. You can run around, break objects, run up walls (only the walls with wood on them), launch yourself across town, find money, treasures, scrolls, etc. The best thing to do would be to bring up the missions screen.
The missions screen has six different ranks for missions. Those are: Genin Training Arc, S, A, B, C, and D.
You have the ability to check your missions right from your start menu. The cool thing is you can even re-do missions and re-watch all the cutscenes. When you clear missions, Secret Scrolls will appear throughout the village for you to collect. If you collect the scrolls and bring them to Iruka, he'll give you items that can be useful in battle.
For some missions, such as flash-back missions, you need mission XP. In order to even start the third mission, however, you'll need to gain mission XP. You can do free missions from the people of Leaf Village or do one of the three D-Rank missions already available, which are walk 5000 steps, play the game for at least 2 hours, or break 200 objects. That takes quite a while, about an hour and a half for me. Then I was finally able to start the third mission.
There are forest race missions as well, where you control Naruto with the analog sticks and you can get power ups that make him go faster so you can reach the goal on time. It's pretty fun and exciting.
So after a good two and a half hours, I ended my play and got something to eat. The game's good as far as I've played, but gaining mission XP was a task. It was probably worse for me, because I just did the three D-Ranked missions rather than gaining XP off of free missions like I should have.