G-MODE Archives+: Megami Ibunroku Persona: Ikuu no Tou Hen for PC now available in Japanese
Priced at $15.99.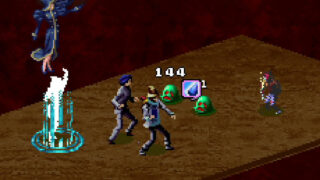 The G-MODE Archives+ release of RPG Megami Ibunroku Persona: Ikuu no Tou Hen is now available for PC via Steam in Japanese for $15.99, G-MODE announced.
Megami Ibunroku Persona: Ikuu no Tou Hen first launched for feature phones on December 1, 2006 in Japan. It is based on Revelations: Persona, which originally released for PlayStation. The Switch version of the re-release launched on September 14 in Japan.
Here is an overview of the game, via its Steam page:
About

Escape from the other dimensional space ruled by demons. Another story of the Persona users.

The game was well received for its unique worldview set in a school and its innovative system of combining cards to create special abilities. Based on Megami Ibunroku Persona (released in 1996 on PlayStation), this RPG was distributed as an offshoot of the original.

This is a story that was never told in Megami Ibunroku Persona…

After a fierce battle in Sebekville, the protagonists are transported to another world by a runaway deva system. During the transfer to another world, they come into contact with an alternate dimension and fall into "another space.

This is a world ruled by demons. Can the protagonists safely return to their original world?…

While inheriting the "demon negotiation" and "merging (persona)" systems that were popular in the original version, the scenario has been newly created and a new system unique to the cell phone application version has been implemented. If your party is wiped out, you lose all your money and items, making for a thrilling experience.

About G-MODE Archives

The G-MODE Archives is a reissue project that faithfully recreates old feature phone games as they were back then.

In order to enjoy the app as it was back then, the web-connected menu, buttons, and keys have been transplanted, but some of them may not work.
For more information on the Steam version, press START button and see the "How to play" in the OPTION menu.