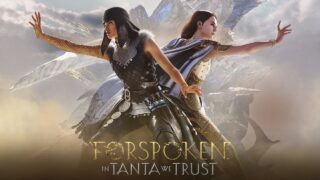 Publisher Square Enix and developer Luminous Productions have released the gameplay reveal trailer for Forspoken downloadable content "In Tanta We Trust," which is due out on May 26.
Here is an overview of the downloadable content, via Square Enix:
After bringing peace to Athia, Frey's journey continues as she searches for a way to permanently rid the land from the effects of the Break. Amid her search, she follows a mysterious voice that leads her into the past.

When she emerges, Frey finds herself surrounded by chaos and destruction. Injured and draped in blood-soaked clothing, she discovers a grim truth about her fate. The recently thriving Athia is at war, but why and with whom? Accompanied by Tanta Cinta, and a new set of magic, Frey must uncover the answers and save Athia once more—and attempt to save herself.
Forspoken is available now for PlayStation 5 and PC via Steam, Epic Games Store, and Microsoft Store.
Watch the trailer below.
Gameplay Reveal Trailer
English
Japanese