Stuntfest: World Tour renamed Jected: Rivals, launches in free-to-play Early Access on May 4
Shoot for the stars.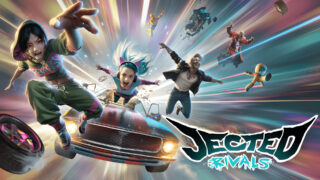 Jected: Rivals, which was previously known as Stuntfest: World Tour, will launch in free-to-play Early Access for PC via Steam on May 4, publisher THQ Nordic and developer Pow Wow Entertainment announced. Optional downloadable content will be available to purchase at launch.
"The new game from Vienna-based studio Pow Wow Entertainment is 50 percent action, 50 percent racing, 50 percent flying and crazy stunts, so it's 200 percent fun!" says "gifted mathematician" and THQ Nordic head of public relations Florian Emmerich in a press release.
Here is an overview of the game, via THQ Nordic:
About

Dive right into the crazy action circus of Jected: Rivals! This destructive stunt royale is no place for weak bones! Grab your car and battle against other players in adrenaline-loaded competitions. Show off your spectacular tricks—race, wreck, and bounce with style. What are you waiting for? The show is about to start, see you there!

Key Features

A Wild Selection of the Gutsiest Competitions – From crash derby to a head-on-head glider race!
Customizable and Upgradable Vehicles – Your favorite is ready to be discovered!
Shoot for the Stars! – Eject from the car at the perfect moment to get ahead or for a surprise comeback.
Compete in the All-New Trending Extreme Action Sport – Become the next champion of the insane Jected tournament!
From a Punkster Granny to a Zombie Priest – choose your favorite character and make it your own through various skins!
Watch a new trailer below.
Early Access Release Date Trailer