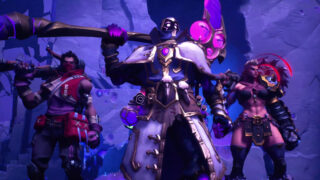 Publisher Digital Extremes and developer Airship Syndicate have released an extended gameplay trailer for character-based online action RPG Wayfinder.
Users attending PAX East 2023 in Boston from March 23 to 26 will be able to go hands-on with Wayfinder on the show floor of the Boston Convention Center. A live panel is also planned for March 24 from 2:00 p.m. to 3:00 p.m. ET, where Wayfinder creative director Joe Madureira, Airship Syndicate president and co-founder Ryan Stefanelli, and marketing and engagement director AJ LaSaracina will pull back the development curtain to show how the game came to life and chart the path to the full live service rollout ahead. You will be able to watch it on Twitch.
A closed beta test for Wayfinder began across PlayStation 5 and PC on February 28. An Early Access launch is planned for PlayStation 5, PlayStation 4, and PC via Steam and Epic Games Store in May, followed by a full free-to-play launch across multiple platforms this fall.
Watch the trailer below.
Extended Gameplay Trailer