Game Boy, Super NES, and NES – Nintendo Switch Online add BurgerTime Deluxe, Kirby's Dream Land 2, SIDE POCKET, and XEVIOUS
March 2023 game updates announced.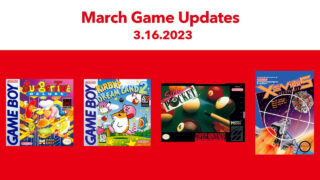 The Game Boy – Nintendo Switch Online app has added BurgerTime Deluxe and Kirby's Dream Land 2, the Super Nintendo Entertainment System – Nintendo Switch Online app has added SIDE POCKET, and the Nintendo Entertainment System – Nintendo Switch Online app has added XEVIOUS, Nintendo announced.
Here is an overview of each game, via Nintendo:
Game Boy

BurgerTime Deluxe – It's a nonstop food fight in this classic arcade game! Give Chef Peter Pepper a hand and create the ultimate burger by traversing an action-packed kitchen to gather your materials—but watch out, because renegade ingredients will stop at nothing to put an end to your cooking days
Kirby's Dream Land 2 – The bridges that connect the seven Rainbow Islands have disappeared! Help Kirby solve the mystery while battling King Dedede and his horde of minions. Along the way, meet Rick, Kine, and Coo—each possessing important abilities that will help Kirby save the day!

Super NES

SIDE POCKET – You might be able to play it cool behind the cue in Nine Ball Game and Pocket Game, but do you have what it takes to finesse with the best in the challenging Trick Game? Make use of a variety of shots in both solo and multiplayer modes and get ready to rack 'n' roll in this billiards game that was originally released for Super NES in 1993!

NES

XEVIOUS – You are humanity's last hope against the sinister XEVIOUS collective! Pilot the Solvalou Fighter and its variety of weapons in your mission to destroy XEVIOUS aircraft and bases from deep behind enemy lines. XEVIOUS differentiated itself from its mid-80s contemporaries with its unique enemy types, hidden gameplay features and variety of vertically scrolling environments. Ask yourself, are you devious enough to beat XEVIOUS?
The Nintendo Switch Online subscriber-exclusive apps allows users to play classic Game Boy, Super Nintendo Entertainment System, and Nintendo Entertainment System games. With online play added to every classic game, you can compete or cooperate online with friends, share your screen, or pass the controller, depending on the game.
Watch a trailer below.
Game Boy, SNES, and NES – Nintendo Switch Online March 2023 Game Updates
English
Japanese