Fitness Circuit for Switch coming west on May 26
Exercise game initially launched as Fitness Runner in Japan.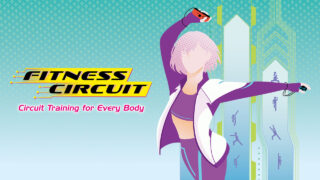 Spike Chunsoft will release exercise game Fitness Circuit for Switch on May 26 in the west, the publisher announced.
Fitness Circuit first launched under the title Fitness Runner on November 24, 2022 in Japan, where it was published by EXFIT.
Here is an overview of the game, via Spike Chunsoft:
About

10 minutes a day, three days a week.

Fitness Circuit utilizes Super Circuit Training, a workout method that alternates aerobic and strength-building exercises to burn calories efficiently, increase endurance, and improve muscle strength in a short period of time. This method is designed to have a high training effect, so you won't need to play every day. Complete a standard workout session in just 10 minutes a day, three days a week. *Exercise effects and results will vary per individual.

Key Features

Workout Anytime, Anywhere – Fitness Circuit doesn't require anything more than a little space to move and Joy-Con™ controllers. No need for extra equipment or busy gyms.
Circuit Training for Every Body – Anyone can play. Fitness Circuit offers training that is tailored to your individual needs and preferences.
Fun Routines – Simply match the workout prompts, to help your on-screen Runner through a flashy and entertaining performance. It's fun to play and watch.
Play With Friends – Make it a Group Workout. Fitness Circuit supports 4-person Online Multiplayer*, so you can play and compete together to make the most of your training.

Fitness Runners and Voice Actors

Fitness Circuit's colorful characters are fully voiced by some of your favorite anime stars, in both English and Japanese.

Naomi – (voiced by Emi Lo in English, Kana Hanazawa in Japanese)
Ray – voiced by Howard Wang in English, Natsuki Hanae in Japanese)
Scarlet – (voiced by Jennifer Losi in English, Nana Mizuki in Japanese)
Maverick – (voiced by Mick Lauer in English, Hiroki Yasumoto in Japanese)
JJ – (voiced by Amber May in English, Maaya Uchida in Japanese)
Max – (voiced by Kane Jungbluth-Murry in English, Takahiro Sakurai in Japanese)
View a new set of screenshots at the gallery. Visit the official website here.
Screenshots