Boundary launches in Early Access for PC on April 13
Multiplayer warfare in zero gravity.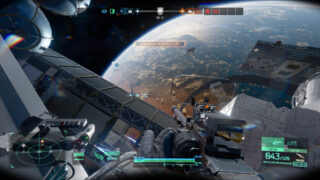 Multiplayer tactical space-based first-person shooter Boundary will launch in Early Access for PC via Steam on April 13, publisher Skystone Games and developer Studio Surgical Scalpels announced.
The game will be available in the following editions:
Standard Edition ($24.99)
Deluxe Supporter Edition ($34.99)
Ultimate Supporter Edition ($44.99)
The Early Access version will ship with the following content:
A fully presented six degrees of freedom zero-gravity experience.
Full controller and mouse-and-keyboard support that is constantly improving.
A complete progression system with 70 levels for players to go through.
Over seven highly detailed maps and multiple classic game modes.
Daily, weekly, and monthly challenges for players to participate in.
User feedback and bug reporting systems.
Detailed character / weapon load-out customization.
Party and voice chat systems to allow for team coordination and playing with friends.
Boundary will remain in Early Access for six to twelve months, but this may change based on player feedback. The full release will add Battle Pass and Store systems, ranked server matchmaking, and AI / bot implementation. The developer is also aiming to have cross-platform play fully functioning.
"We're thrilled to announce to our fans who have been waiting so long, that Boundary is finally ready to be played by you all this April," said Studio Surgical Scalpels director Frank Mingbo Li in a press release. "We cannot wait for everyone to see just what we've been working on these last few years."
A PlayStation 4 version of Boundary is also planned for release, presumably when Early Access ends. Boundary was also one of the titles supported by PlayStation China Hero Project.
Here is a brief overview of the game, via Skystone Games:
With nearly 500,000 wishlists on Steam, Boundary is a next-generation high-quality competitive first-person shooter that takes place in zero-gravity in the vacuum of space. In Boundary, players team up to take down opposing forces in captivating wide-open outer space arenas. Powered by an EMU suit, players navigate a harsh space atmosphere in orbiting installations where the goal is to engage enemy combatants in a three-dimensional battlefield. Threats come from all angles and Boundary makes astronautical combat more akin to dogfighting where the angle of attack and position can make the difference between life and death.