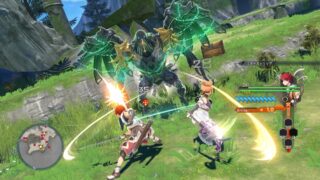 The latest issue of Weekly Famitsu features an interview with Falcom president Toshihiro Kondo, who shares a few more details on the newly announced Ys series 35th anniversary title Ys X: Nordics.
Get the key tidbits below.
"'Nordics' is a term that means 'people of the north.'"
"The time period goes way back—after the events of Ys I and II. Adol is 17 years old and on his way to Celceta (which is brought up in the manual preface of Ys I!)."
"Dr. Flair Rall is traveling with you."
"It's a story of boys and girls. Since this is the first time we're releasing on Switch, the main characters are younger, and part of that was considering the userbase."
"There are only two playable characters (Adol and the axe girl). That being said, the action is dense and there are all sorts of things you can do."
"There are town(s), but your base will always be your ship."
"Solo Mode offers the usual high-speed battles [of the Ys series]. Combination Mode lets you pull off more powerful attacks, but the overall speed of battle is slower so you can fight more carefully. (The speed only changes on Adol's side.) You can only switch to Combination Mode when holding down a certain button, and it switches back to Solo Mode when said button is released."
"Defense carries major weight. Guarding builds up your Revenge Gauge, which can increase your attack power."
"We've taken considerable care to adjust the difficulty level so that a wide range of users can enjoy the game."
"There are special actions called 'Mana Actions.' There's more freedom when performing mid-air actions."
"About 20 percent of the game is sailing your ship. There are maps dedicated to ship and naval battles occur when you encounter enemies. There is also a growth (i.e. character development) element to the ship."
"We'll release new footage(s) either in the early New Year or in the spring."
"Hopefully the release date will be around the same time as usual. (Laughs.)"
"We're quite aware of the challenge we're undertaking in the new field that is Switch. Production is currently underway with the intention of making a game that both series newcomers and fans alike can enjoy."
Ys X: Nordics is due out for PlayStation 5, PlayStation 4, and Switch in 2023 in Japan.
Thanks, Ryokutya2089.