Forspoken demo now available for PS5
Experience the magical combat and parkour of Athia.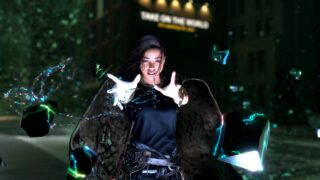 A demo for Forspoken is now available for PlayStation 5 via PlayStation Store, publisher Square Enix and developer Luminous Productions announced. A new trailer was also released.
Get the latest details below.
The trailer provides a deeper look at the devastating effects of the Break, a powerful and mysterious force that corrupts everything it touches, including the inhabitants of Athia and the Tantas, the once benevolent matriarchs who now rule the lands as evil and maddened sorceresses.

Players will experience the corruption first-hand in the demo and can expect to face-off with a variety of enemies and test their fighting abilities with an extensive arsenal of attack and support magic that will prepare them for the high-octane action they will encounter when the full game launches next month.
Forspoken is due out for PlayStation 5 and PC via Steam, Epic Games Store, and Microsoft Store on January 24, 2023.
Watch the new trailer below.
Demo Announce Trailer