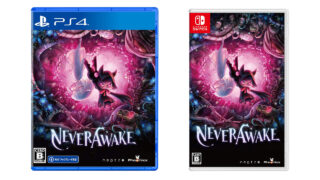 Twin-stick shoot 'em up NeverAwake will launch for PlayStation 5, PlayStation 4, and Switch on January 19, 2023, listings at Japanese retailers such as Rakuten Books reveal.
In Japan, the PlayStation 4 and Switch versions will be available at retail in 4,180 yen standard and 7,700 yen Premium editions. The latter includes an original soundtrack CD, art book, and magnet hook. The PlayStation 4 physical edition will also include a free upgrade to the PlayStation 5 version.
As previously announced, the PC version will launch via Steam on September 28. It will cost $19.99, with a 15 percent-off launch discount at launch, and support English, Japanese, Traditional Chinese, and Simplified Chinese language options.
Here is an overview of the game, via publisher Phoenixx:
Discover the grotesque nightmares of a little girl, trapped in her slumber, paralyzed by fear, seemingly never to awake. In the deepest parts of her subconsciousness, she sees Rem, a fierce fighter armed with a demonic, dragon-shaped gun, who fights to conquer the forces trapping her.

Dodge, aim and shoot in 360-degree levels, gather enough power to unleash a wide blast around Rem when surrounded by foes as she drifts through beautiful hand-drawn landscapes of fears and monstrosities of the girl's nightmares. Annihilate the abominations haunting her waking hours like dentists, angry dogs, and going to school. Other foes represent terrors more familiar to Japanese youth, like the first boss, a radish monster representing the acquired taste of wasabi.

Each of the 80 levels loops until Rem collects all the souls, and each loop gets more challenging if Rem can't defeat her adversaries in time. Fight more than a dozen bosses, discover what lies at the core of the girl's subconscious and what might lead to her freedom from this sleep paralysis.