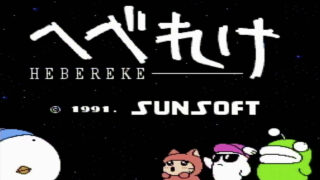 SUNSOFT will release its classic 1991 action adventure game Ufouria: The Saga for consoles in 2023, the company announced.
Ufouria: The Saga first launched for Nintendo Entertainment System on September 20, 1991 in Japan, followed by November 19, 1992 in Europe. A North American version was never released.
Here is an overview of the game, via the back of the box:
Join Bop Louie as he searches for his three friends—Shades, Freeon Leon, and Gil—to help him complete his mad scramble. It won't be easy. Brain-boggling mazes, traps, and bizarre pitfalls stand in your way back to Ufouria.

You'll rely on your friends to survive in this strange, changing world. But beware. You better have the right powers for the strange worlds you'll encounter… or you lose. As you make your trek through mystical forests, deserts, and oceans, you'll need to seek out and destroy monstrous creatures every step of the way. Will you have the right powers at the right time?
Watch a gameplay video below. View a set of screenshots at the gallery.
Gameplay
Screenshots