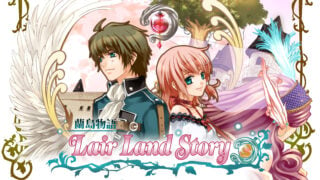 PQube will release raising simulation game Lair Land Story digitally for Switch and PC via Steam on August 19 in the west, the company announced.
The game first launched for PC via Steam on April 22, 2020 with support for Japanese and Chinese (Simplified and Traditional) language options, followed by Switch via Nintendo eShop on November 12, 2020 in Japan.
Here is an overview of the game, via PQube:
About

When Herol finds Chilia—a mysterious and magical girl who has saved his war-torn city from destruction—she seems to have lost all memory. With no recollection of her previous life and powers, he decides to take her in. You, as Herol, must now raise Chilia over the course of four years, plan her day-to-day life, and help her develop her character and skills! ​

Raise Chilia – Every decision you make will impact Chilia's traits and opinions, so choose wisely!
Plan Chilia's Day – Plan her schedule including tasks and lessons, but make sure not to bore her, or her performance may suffer!
Discover Chilia's Mysterious Past – It is now up to you to help Chilia remember who she is and where she came from. Figure out the mystery of why she was granted with the Goddess' blessing.
Find True Love – Raising a child can be tough, so don't forget to search for your own happiness as well.
Explore the City – Explore the kingdom and get to know the people. Spend time in the plaza, unwind at the bar or go for a change of appearance at the beauty salon.
Aid Lair Land – The war is over, but the kingdom still needs to recover. Help rebuild the kingdom's landmarks and aid the citizens, but beware of any evil that is still lurking in the shadows.
Play and Schedule Chilia's Day

Spend four years with Chilia and support her as she grows into a young woman. Help build her character and improve on her skills to prepare her for life after your care.

Schedule Chilia's day by having her work, rebuild, study or rest, each activity affecting her popularity, exhaustion and motivation. Chilia's skills such as charisma and kindness will change depending on how you plan out her day.

Your decisions will also decide Chilia's faith, so think carefully! Whether she works as a seamstress, maid or church clerk instead of letting her study will impact her development and character.

Explore Lair Land and Help the Kingdom

Take a break from your guardian duties to explore the land and find what the kingdom has to offer. Visit friends, have a drink or take Chilia to the salon to change her appearance.

On your off-days help Herol find the girl of his dreams and choose between a number of potential suitors, from princesses to mischievous thieves.

Despite the war being over thanks to Chilia's heroic acts, the city still needs to recover. Aid the townsfolk and support war victims as best you can, although beware of the evil still lurking in the shadows.
Watch a new trailer below. View a new set of screenshots at the gallery.
Announce Trailer