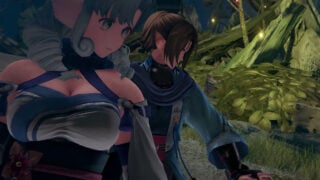 Aquaplus debuted a new gameplay trailer and 12 minutes of live gameplay for turn-based RPG Monochrome Mobius: Rights and Wrongs Forgotten during its latest live stream.
Here is an overview of the game, via western publisher Shiravune:
About

A new JRPG from Aquaplus, announced in commemoration of 20 years of their hit Utawarerumono franchise. Produced by legendary composer Naoya Shimokawa and penned by Utawarerumono writer Munemitsu Suga, with support from the studio's superb art direction spearheaded by character designer Mi, Monochrome Mobius: Rights and Wrongs Forgotten focuses on the heart of every great RPG: the story.

Story

Ennakamuy, a vassal state of Yamato located in the outlands is home to a young man who lives with his mother and little sister.

One day, while this man is investigating a minor matter at the behest of the Owlo (Emperor), he encounters a mysterious girl.

She tells him something unbelievable—that his father, thought to be dead, is actually still very much alive.

In search of the truth, he decides to leave his village and head for Arva Shulan, a mysterious country that does not exist on any maps.

He surpasses one obstacle after another to retrace his father's footsteps.

Along the way, he meets up with like-minded companions, going through hardships, happiness, setbacks, and painful separations together.

As fate would have it, the man finds himself being slowly swept into the middle of a critical turning point in history.

This is the story of a man who later becomes "Utawarerumono"—those who are lauded.

Characters

Oshtor (voiced by Kentaro Tone) – He lives in Ennakamuy, a village in the outlands with his mother Torikori and little sister Nekone. Young and filled with a sense of justice, he works hard every day. One day, he meets Shunya, a mysterious girl who seems to know something about his father's enigmatic death. This meeting inspires him to travel to an unknown country in search of the truth.
Shunya (voiced by Yuko Minaguchi) – A mysterious girl who appears before Oshtor one day. She looks young and innocent, but her manner of speaking is occasionally puzzling. Shunya tells Oshtor that his father, who reportedly died in the line of duty, is still alive, and accompanies him on his journey to unravel this mystery.
Munechika (voiced by Saori Hayami) – The daughter of Murasame, the Lord of Izumo. She is pretty and very polite, but her warrior side also shows itself from time to time. She is accompanying Oshtor on his journey as one of his allies.
Mikazuchi (voiced by Yuya Uchida) – A young man who once crashed Oshtor's training session. Very strong and somewhat rough in demeanor, he is a man of honor who never betrays his principles. Mikazuchi continues to grow alongside Oshtor as his good friend and friendly rival.
Monochrome Mobius: Rights and Wrongs Forgotten is due out for PlayStation 5 and PlayStation 4 in Japan, and for PC via Steam worldwide on September 8. Read more about the game here.
Watch the footage below.
Gameplay Trailer
English
Japanese
Traditional Chinese
Gameplay
Gameplay #1 – 31:27 to 35:50
Gameplay #2 – 38:13 to 46:17