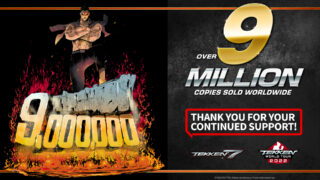 Total sales for Tekken 7 have surpassed nine million copies, series director Katsuhiro Harada announced on the fifth anniversary of the fighting game's home release.
Total sales for the Tekken series have also surpassed 53 million units.
It was last reported in November 2021 that Tekken 7 sold over eight million copies.
Tekken 7 first launched for arcades on March 18, 2015, followed by PlayStation 4, Xbox One, and PC via Steam on June 2, 2017.