Nobunaga's Ambition: Hadou announced for iOS, Android
Closed beta test sign-ups now available.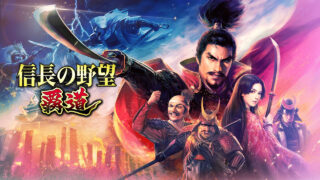 Publisher Koei Tecmo and developer Kou Shibusawa have announced Nobunaga's Ambition: Hadou, a "massively multiplayer online strategy" entry in the Nobunaga's Ambition series for iOS and Android. Closed beta test sign-ups are available now in Japan.
Here is an overview of the game, via its official website:
About

The Nobunaga's Ambition series appears on smartphone as a massively multiplayer online strategy game!

As a feudal lord who serves the Daimyo (Warlords), players will live through Warring States Japan. Strive to develop your forces alongside players of the same Daimyo—sometimes as reassuring allies who fight against other powers, and other times as rivals who vie for merit. Compete for territory on a nationwide map colored by the four seasons, expand your power in Siege Battles that occur on dedicated maps, and work your way towards unification.

Key Features

"Power of Unity" Dominates Warring States Japan – Cooperate with players who serve the same Daimyo to fight against other powers and expand your forces. Additionally, alongside the members of your "Clan" with whom your bonds are even stronger, compete against other Clans for merit while becoming more powerful together. Each Daimyo and Clan will vie for unification through the "Power of Unity."
Anecdotes and Legends Weave the "Affinities" of Distinguished Officers – Officers have several "Affinities" based on historical facts and anecdotes, such as the "Four Heavenly Kings" and "Red Arms." When troops are formed with officers of the same Affinity, their "Strategies" are more likely to connect. Run through Warring States Japan with an original unit that utilizes these Affinities.
"Warring States Power Map" Faithfully Depicts Turbulent Era Japan – The 3D maps of the Nobunaga's Ambition series used in NHK's long-running period pieces have been arranged for Nobunaga's Ambition: Hadou. It incorporates the four seasons distinctive of Japan and expresses the ever-changing state of affairs within the country. Vie for supremacy over famous castles such as Kiyosu Castle and Odawara Castle, as well as landmarks across the country such as Suwa Taisha and Sado Goldmine.
"Siege Battles" Test Your Military Might and Resourcefulness – "Siege Battles," in which you fight alongside members of your Clan, take place in real-time, on a dedicated map separate from the nationwide map. Dynamic and detailed battles unfold on a map that recreates Japanese fortresses, from watchtowers and moats, to walls and castles.
Watch the announcement video below.