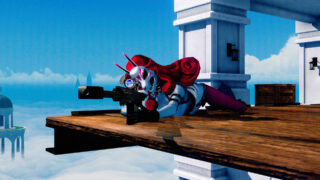 Publisher Annapurna Interactive and developer Ben Esposito have announced the voice cast for first-person action game Neon White, which includes Steve Blum, Alicyn Packard, Ian Jones-Quartey, and more.
The full voice cast is as follows:
Steve Blum (Cowboy Bebop, Star Wars Rebels, Wolverine and the X-Men, Transformers Prime)
Alicyn Packard (Rugrats, The Tom & Jerry Show, Yo-Kai Watch, Space Racers)
Courtney Lin (Planet Power, 400 to Oahu, BuzzFeed Murder Mystery Stories)
Ian Jones-Quartey (OK K.O.! Let's Be Heroes, Steven Universe, Bravest Warriors, nockFORCE)
SungWon Cho (Barry, Truth Be Told, Cookie Run Kingdom)
Zeno Robinson (The Owl House, My Hero Academia, BAYMAX!)
Salli Saffioti (Watchmen, Resident Evil: Degeneration, Destroy All Humans!)
Ben Lepley (Puyo Puyo Tetris, Lost Ark, Shin Megami Tensei V)
Bruce Barker (Injustice 2: Gods Among Us, Fallout 76, Resident Evil: Village, Red Dead Redemption 2)
"We're so fortunate to work with a voice cast with the talent and grace to absolutely nail Neon White's unique tone," said Ben Esposito in a press release. "It's edgy, campy, funny, and surprisingly earnest, all encapsulated in Steve Blum's pitch-perfect performance as our cool and charmingly clueless protagonist White. It's been a joy to watch this incredible team of actors and actresses bring Heaven's outlandish residents to life with both a sense of humor and a familiar warmth."
Here is an overview of the game, via Annapurna Interactive:
Created by visionary Ben Esposito and the team at Angel Matrix, Neon White is a fresh take on action games, featuring a hellishly clever story in which White, an assassin handpicked from Hell, is tasked to compete with other demon slayers for the chance to earn a place in Heaven. The story proves it's never too late to ask for forgiveness, and uses a light card-based combat system to propel the narrative forward.

Ben Esposito originally partnered with Annapurna Interactive to develop the award-winning whimsical physics puzzle game Donut County in 2018, and is partnering with the publisher yet again for a fresh take on action adventure games in the upcoming Neon White. Ben is also known for his work prototyping and consulting on game design for the BAFTA Game Awards winner What Remains of Edith Finch.