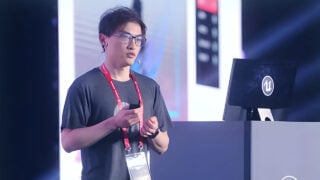 The Lost Soul Aside official Twitter account has published a short interview with game director Yang Bing in which he discusses the game, his first experience with PlayStation 5, how it has influenced him, and even shares a behind-the-scenes development story.
Get the full interview below.
Please briefly introduce yourself and your game with "China Hero Project."

Yang Bing: "Lost Soul Aside is the game we are currently working on for [PlayStation's] 'China Hero Project.' Because of Lost Soul Aside, I was known by Sony Interactive Entertainment and some of the players. Being a person from an art background, I love playing games, from a hobby to becoming a professional, games are all around my daily life. Lost Soul Aside is all about creating a smooth action RPG experience for players, and we have shown it through previous videos."

What are your first experiences, memories, and feelings with PlayStation 5?

Yang Bing: "When I first opened PlayStation 5, I couldn't wait to open the Final Fantasy VII Remake enhanced version for PlayStation 5. Compared with the performance of the previous generation of consoles, the full 60 frames per second frame rate mode, almost no loading time, and enhanced visual quality eliminated my previous doubts about the improvement of PlayStation 5 compared with the previous generation."

What is your favorite PlayStation 5 game? Why do you like it so much?

Yang Bing: "For now, my longest played game on PlayStation 5 is Elden Ring. Originally, I am not a big fan of Souls games, nor can I enjoy brutal difficulty games, but after exploring the open world, I can't help but love playing the game. I think it's difficult to describe why I like it, but to put it in simple words, this is more like childhood exploration fun and makes me remember the good old days, and keeps me coming back for a great experience."

Which games on PlayStation 5 have inspired you in regards to game design or development?

Yang Bing: "Demon's Souls remake is a PlayStation 5 game I have seen and I'm touched deeply. Its visuals, special effects, and other aspects make me realize the improvements of the next-generation games, which makes me want to try something to match the new generation."

Please share a behind-the-scenes story of your game's development on PlayStation 5.

Yang Bing: "After we got some development kits for the new console, we immediately did the version test. To our surprise, the version without optimization can also have a good performance on PlayStation 5. Later, with the progress of the project, PlayStation 5 has changed from a new guest to an 'old friend' with our daily development. This makes us feel that we are moving forward."
Lost Soul Aside is in development for PlayStation 5 and PlayStation 4.