Konami to hold Indie Games Connect 2022 on June 26
A six-hour indie games event in Ginza.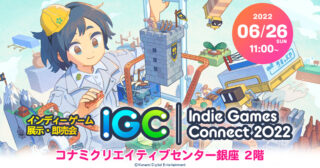 Konami will hold independent games exhibition Indie Games Connect 2022 at Konami Creative Center Ginza in Tokyo on June 26 from 11:00 to 17:00 JST, the company announced.
Indie Games Connect 2022 will offer a space for creators to connect with each other and users. To enable as many connections as possible, there will be no fee for exhibition or general admission. Creators who are interested in exhibiting the event can apply now.
Here is an outline of the event:
Indie Games Exhibition – A place for creators, who want as many users as possible to enjoy the games they poured their ideas into, to connect with other creators and users.
Game Development Consultation for Exhibitors – A special program for exhibitors in which experienced professionals will be on-site to play your games and answer any questions or concerns you may face on a daily basis.
Game Developers Seminar – A discussion about the future of independent games and creators hosted by Sony Interactive Entertainment indies initiative head Shuhei Yoshida.
Indie Games Connect 2022's sponsors are as follows:
Platinum Supporters

Sony Interactive Entertainment

Gold Supporters
Silver Supporters
The exhibiting games lineup will be announced in early May. Details regarding general admission will be announced in mid-May.