CRIMESIGHT launches April 14
Konami's mystery simulation game daetd.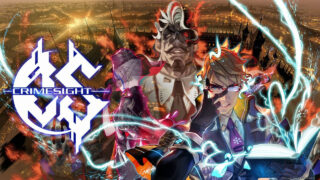 Player-versus-player mystery simulation game CRIMESIGHT will launch for PC via Steam on April 14 for $19.99, publisher and developer Konami announced.
Konami will also host a free demo weekend for CRIMESIGHT. Players can register to try out CRIMESIGHT from March 24 to April 7 via the game's official website.
Here is an overview of the game, via Konami:
About

London, 2075. A cutting-edge predictive system called Foresight AI is developed to predict future crimes based on network data. As a result, crime is reduced by 90 percent worldwide. However, the system soon predicts an unavoidable incident, one that could steer the world on the path to ruin. Fearing the worst, Foresight AI's developers craft a new artificial intelligence that can track down and solve the most heinous of crimes before they occur. They dub this AI "Sherlock," after the peerless detective of classic literature.

As it works on several cases, Sherlock discovers a harrowing truth: Sitting at the center of these cases like a spider on a web is Moriarty, an AI that rivals Sherlock's capabilities.

CRIMESIGHT pits players against one another as one assumes the role of the "villain", who carries out a murder, and another becomes the "target", the villain's future victim. The player on the Moriarty side must fulfill objectives to complete their crime, whilst the players on the Sherlock side must prevent it from happening. Over the course of a match, the villain and the target will slowly come to light. Which side will you take?

Key Features

A murder case where the victim is yet unknown:

A group of travelers get snowed in by a blizzard, leaving them to fend for themselves until help arrives.
Unbeknownst to them, there is a "Villain" hidden among them with their murderous sights set on a "Target" they wish to destroy.

The Moriarty side player must meet several conditions before they can succeed in their murder plot. Likewise, the players on the Sherlock side will be working to
Put an end to the lethal games. The truth of who the Villain and who the Target are will come to light as the game unfolds.
Watch a new trailer below.
English
Japanese