Shared-world survival crafting fantasy game Nightingale announced for PC
Due out in Early Access in 2022.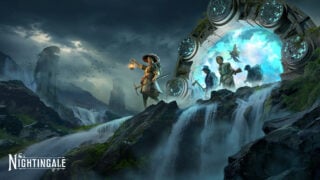 Publisher Improbable and developer Inflexion Games have announced Nightingale, a shared-world survival crafting game set within a Victorian gaslamp fantasy setting. It will launch in Early Access in 2022.
"Our team at Inflexion Games has been working diligently to create this enthralling universe of magic, mystery, and wonder, and we are thrilled to finally be revealing it to the world," said Inflexion Games CEO Aaryn Flynn in a press release. "We are also privileged to have such extraordinary partners backing the studio, with the proud support of Tencent, as well as collaborating with Improbable's worldwide teams as we leverage its IMS tools."
Flynn continued, "From the beginning, we knew we wanted to build an intricate fantasy setting as rich and full of history and life as anything we've worked on in the past. The realms of Nightingale are vast and have many secrets to uncover, and we cannot wait for players to start discovering them."
Here is an overview of the game, via Improbable:
About

You are stranded beyond our world, cut off by the sudden collapse of the arcane portal network. This catastrophic event has left you—and countless others—fighting to survive in a labyrinth of mysterious and perilous realms. Prepare for a journey of adventure, danger, and discovery – as you search for a way back to the last haven of humanity, Nightingale.

Key Features

Explore the Realms – Traverse foreboding forests, harrowing swamps, and shimmering deserts, as you restore the portals leading deeper into the lands of the Fae.
Build and Craft – Construct estates, farms, and communities to live off the land. Craft the tools, gear, and weapons you need to survive.
Shared World – Adventure alone, or unite with other players. Combine your strengths and skills, and face the challenges of the realms together.
Gaslamp Fantasy – Open-world realms immerse you in a mystical Victorian setting, where the remnants of humanity are threatened by the dark magic and nightmarish creatures of the Fae.
Highlights

A universe of worlds to explore teeming with ambient life, eldritch creatures, and environmental realism.
Robust construction system. Build estates, farms, and communities to live off the land.
In-depth crafting allows you to create the tools, gear, and weapons you need to survive.
Immersive gaslamp fantasy universe.
Repeatable gameplay—endless adventures across the realms.
Shared world experience where you can play solo or combine strengths with other players.
Powerful first-person combat allows players to wield an assortment of guns, blades, and sorcery.
Watch the announcement trailer below. View the first images at the gallery. Visit the official website here.