Japanese creators discuss 2022 ambitions [Update]
Teases to wet your appetites.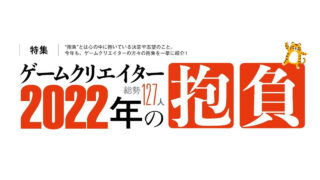 Famitsu has published the 2022 edition of its annual end-of-year creator interviews. The website interviewed 127 creators this year, several of which tease new titles and announcements to come in 2022.
Get the notable tidbits below.
■ Acquire

Takuma Endo

—Ambitions for 2022

"It seems like we'll be able to release some titles that have been delayed or haven't been announced. I'll be happy if there is something among them that resonates with everyone."

■ Atlus

Shinjirou Takada

—Ambitions for 2022

"I chose 'Challenge' as my keyword for 2022 in hopes to release a title to the world that will become a pillar for Atlus. The staff are working hard on development to make something that'll be interesting and satisfying for everyone, so I'd be happy if you could look forward to it."

—Status Report

"With Shin Megami Tensei V finally released, we are taking a breath of relief, although we hope to announce something this year (2022) too, so please stay tuned."

Katsura Hashino

—Ambitions for 2022

"Last year (2021), various Atlus titles were released. Finally, we are entering a time when Atlus can start to release a completely different title. PROJECT Re FANTASY, the title I'm leading that we announced we were starting up a few years ago, has reached an important phase after some ups and downs, so I'd like to stay focused and work as a team to get it down to form. It will be an important year for us to get started on things coming further ahead.

"While it might not be much, I'd like to continue to create titles that add to the enjoyment of players' gaming lives."

—Status Report

"We're not at a point where I can say anything concrete yet, but various things are being prepared. Please look forward to them!"

Naoto Hiraoka

—Status Report

"As for future Atlus titles, we receive all sorts of requests from everyone, which we're always using as a reference. I hope you can look forward to what's to come."

Kazuhisa Wada

"After the Steam version of Persona 4 Golden, we will release a remastered version of Persona 4 Arena Ultimax in 2022. Of course, we're steadily making progress on new things, but as for Persona, we think it's important for users worldwide to enjoy the series across a variety of media including past titles, events, and collaborations. Persona's 25th anniversary will continue, so please give us your support!"

■ Capcom

Ryozo Tsujimoto

—Ambitions for 2022

"In 2022, I'd first like to deliver Monster Hunter Rise: Sunbreak, which is scheduled for summer, to everyone in solid shape. And the Monster Hunter series will celebrate its 20th anniversary in 2024, so I should start making preparations for various things soon."

Kazuki Morishita

—Ambitions for 2022

"In 2022, Puzzle & Dragons will celebrate its 10th anniversary. In the near future, we will announce various projects and developments that should put a smile on the faces of fans, so please look forward to them."

Goichi Suda

—Ambitions for 2022

"Grasshopper Manufacture has joined NetEase Group, and has entered the term of Grasshopper Reborn Vol. 5.

"To become a firmer, more appealing studio, we will continue to develop each game carefully and with the same love as always."

—Status Report

"A new title is in development. We're diving deep."

Kazuma Kujo

—Ambitions for 2022

"We haven't been able to update R-TYPE FINAL 2 to where it should have been by the end of 2021, so I hope to achieve that as soon as possible. 2022 is also the 20th anniversary of the Disaster Report series, so we're releasing a 'Disaster Report 20th Anniversary Kanazawa Curry.' Please look forward to it.

—Status Report

"For 2022, we're preparing the update to R-TYPE FINAL 3. I'm also hoping to make a new announcement for Manga Kakeru. Preparations are also underway for various other things, so I would appreciate your interest."

Akihiro Suzuki

"With Dynasty Warriors 9 Empires released, I'll be preparing for future Dynasty Warriors series developments in 2022. I will do my best to share some sort of news with everyone."

—Status Report

"A big title, and a title that's a new challenge. As the boundaries of entertainment disappear in the near future, I'd like to make this a year that we take a step forward into challenging different mediums and expressions."

■ Cygames

—Ambitions for 2022

"It will be a year that we'll be able to deliver various content to everyone from Cygames, which has been directly working on console games. They may take some time, but each team is working hard to develop their titles with love and care, so please look forward to their releases and announcements to come!!"

—Status Report

"Last year (2021), I announced my latest title Project GAMM. It's still shrouded in a veil of secrecy, but development is progressing with the best results I've seen so far. Please look forward to it!!!"

■ JP Games

Hajime Tabata

—Status Report

"This year (2022), we will announce a new RPG."

Tomoya Asano

—Ambitions for 2022

"First off, Triangle Strategy will release on March 4. Other new titles are also in development. Please look forward to them…!"

Akitoshi Kawazu

—Ambitions for 2022

"I've been making preparations for a long time, and I want 2022 to be the year that it takes form."

Yoshinori Kitase

—Ambitions for 2022

"I'd like to take extra care of many popular series including Final Fantasy, SaGa, Star Ocean, and Chocobo."

■ Sega

Seiji Aoki

—Status Report

"I'd like to liven up the user community for titles other than the Virtua Fighter series. Please keep an eye out for future developments for various Sega titles."

■ Taito

Yuichi Toyama

—Ambitions for 2022

"Since we'll celebrate the 70th anniversary of Taito in 2023, each department and division will be preparing for events, measures, and new titles to celebrate. My department would also like to use the opportunity to prepare something while still carrying out our normal duties…"

Toshihiro Kondo

"The sequel to The Legend of Heroes: Kuro no Kiseki is in development. It will touch on a great mystery that has appeared throughout the series.

"Various developments are also being prepared for the Ys series, which will celebrate its 35th anniversary, so please look forward to them."
Update 3:40 p.m.: 4Gamer.net has published its own end-of-year creator interviews. While most of the comments are the same as above, here are the notable new comments not featured in the Famitsu interviews.
Hajime Chikami

—Ambitions for 2022

"This year was an extremely difficult one with COVID-19 and other hardships, but next year we'll finally be able to release our new horror game Shinigami: Shibito Magire. Also, as we head towards our 15th anniversary as a company, we're developing a new title that isn't a dungeon RPG. Of course, there's also the budget price version of our dungeon RPG Undernauts: Labyrinth of Yomi, and one other title we're preparing, so please lend us your support next year as well."

Yoshimi Yasuda

—Ambitions for 2022

"The GODWARS TEAM is ready to establish itself as a development studio, so I'd like to take on the challenge of remaking previously released games with modern computer graphics technology."

■ Koei Tecmo Games

Yosuke Hayashi

—Ambitions for 2022

"In 2022, we'll be to debut titles that we've been working for many years and will pave the way to the future."

■ Square Enix

Takashi Anzai

—Ambitions for 2022

"Dragon Quest X will celebrate its 10th anniversary in summer 2022. We're planning to do a lot, so please look forward to it."

Akitoki Kawazu

—Ambitions for 2022

"We're planning various things that SaGa fans will enjoy next year as well. Please look forward to them."

Yoshinori Kitase

—Ambitions for 2022

"The world of Final Fantasy VII restarted with Final Fantasy VII Remake will expand more and more in 2022. First off, the RPG / battle royal hybrid Final Fantasy VII: The First Soldier is currently in service. Please enjoy the battle as a SOLDIER candidate!"

Masashi Takahashi

—Ambitions for 2022

"First off, please look forward to Bravely Default: Brilliant Lights and Triangle Strategy, which are coming soon! Other than that, there are various announcements we'll be able to make in 2022, so please keep your ears open!"

"And as for Final Fantasy XVI, the latest entry in the series, [2022] will be a year of thorough play and polish for the main game we've assembled. We'll continue to build up the hype as we move towards release, so please look forward to it!"

■ Sega

Hiroyuki Sakamoto

—Ambitions for 2022

"Ryu Ga Gotoku Studio has taken on a new structure, but we'll continue to create games that everyone can enjoy from here on. Please look forward to some truly surprising announcements in the future!"

Sohei Niikawa

—Ambitions for 2022

"In 2022, we'll release various titles, including new works, sequel(s), and port(s). For the sequel(s) in particular, we'll reflect on the opinions of our users and gradually improve the quality of the game. Please look forward to what's to come!"

Masayuki Furuya

—Ambitions for 2022

"I'm currently working on my next title, so please give me your support once we put out information about it!!"

Sokichi Shimooka

—Ambitions for 2022

"While there hasn't been much news on Blue Protocol since the closed beta test, and we've kept you waiting on it, but please rest assured that the development team is going all out. I'm looking forward to the day I can meet lots of visitors in Asterleeds! We're working hard to ensure our content will be loved for a long time like our senior creators."

Hidetaka "Swery65" Suehiro

—Ambitions for 2022

"Next year will be the fifth anniversary of White Owls' establishment as a company. I'll do my best to be able to make an announcement that will make gaming fans go 'oooh!' Please continue to give me your support. I love you all!!"

Hironobu Sakaguchi

—What person caught your eye in 2021?

"Yasumi Matsuno. He seems to be writing a scenario, and I'm looking forward to what type of work it'll be."