SNES – Nintendo Switch Online to add Bombuzal, Claymates, and Jelly Boy on July 28
Japan gets Bombuzal, Shin Megami Tensei if..., and Tuff E Nuff.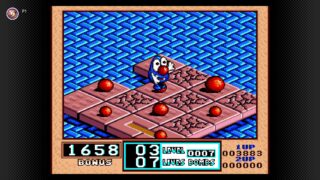 The Super Nintendo Entertainment System – Nintendo Switch Online app will add Bombuzal, Claymates, and Jelly Boy on July 28, Nintendo announced.
Here is an overview of each game, via Nintendo:
Bombuzal – Strategically detonate every bomb in each level while leaving yourself a safe place to stand when the dust settles. In this puzzle game, you'll have to be quick, because time is short. Just make sure you remember to take the size of each explosion into account, or it could blow a hole in all your careful planning. Good luck, and have a blast!
Claymates – Take on the role of Clayton, son of Professor Putty. Your father has made a breakthrough, and with the serum he's created, living creatures can be turned into clay! You will face many dangers, but you have the ability to transform into five different animals. You'll need them all to run, jump, fly, swim and climb your way past the obstacles in your path.
Jelly Boy – In this platforming game originally released exclusively in Europe in 1995, you are Jelly Boy, candy given the spark of life by the power of lightning. You've come to life knowing one thing: You have to escape the candy factory. To get out, you'll need to collect puzzle pieces and survive the enemy heavies trying to stop you. You're sure to need all your wits, skills and shape-changing powers to make it through this wacky adventure.
In Japan, the December lineup consists of the Super Nintendo Entertainment System titles Bombuzal, Shin Megami Tensei if…, and Tuff E Nuff (known as Dead Dance in Japan).
The Nintendo Switch Online subscriber-exclusive apps allows users to play classic Super Nintendo Entertainment System and Nintendo Entertainment System games. With online play added to every classic game, you can compete or cooperate online with friends, share your screen, or pass the controller, depending on the game.
Watch a set of trailers below.
English
Japanese
July Game Updates
Additional Challenges