Shin Megami Tensei V News Vol. 1 introduces new characters, Magatsuhi Skills
Meet Tao, Yuzuru, Ichiro, Miyazu, and Hayao.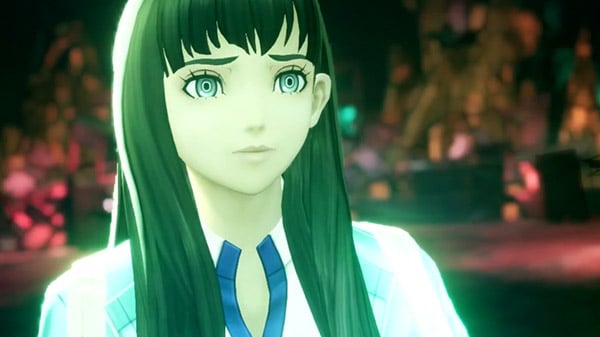 Atlus introduced new characters and the "Magatsuhi Skills" battle feature for Shin Megami Tensei V during the first volume of its Shin Megami Tensei V News program.
Here is the full English transcript:
Introduction

Hello, it's time for Shin Megami Tensei V News. This show from Atlus will deliver information regarding Shin Megami Tensei V, coming out exclusively on the Nintendo Switch on November 11th, 2021. I am your host, Chiaki Matsuzawa.

Here are today's Shin Megami Tensei V News topics.

New Characters
Battle Features

Let's begin the show.

New Characters

Have you had a chance to catch the latest trailer released last week? For this first segment, we'd like to introduce the new characters who made an appearance.

Let's take a look.

Tao Isonokami (voiced by Saori Hayami) – "So how about we all walk home together?" The protagonist's classmate. A third-year student who is a member of the lacrosse club. "I've had spiritual powers ever since I was little. Everyone at Bethel calls me the Saint." She's caring and kind-hearted. "I've just been having these weird dreams lately." She's had a sixth sense since she was little. She assists Bethel's Japanese branch, and supports the protagonist and his friends when they join Bethel. "I keep hearing this distant voice. Like someone faraway's calling out to me."
Yuzuru Atsuta (voiced by Kaito Ishikawa) – A friend of the protagonist who is responsible, capable, and assertive. "Hey, you heading back alone? You should walk with us." He is a principled and upright young man, and fights alongside Bethel in a provisional unit to protect his sister Miyazu. "We're the only family we've got. I don't think it's that strange to look out for my little sister." By wandering into Da'at alongside the protagonist, he obtains further abilities, and newly swears to fight to protect the peace of Tokyo.​- What could have possibly happened to Tokyo while we were in that tunnel?
Ichiro Dazai (voiced by Kishou Taniyama) – The protagonist's classmate. A cheerful guy, though he can be gauche at times. "All right, so word on the street is a bunch of monsters have been seen hanging around this tunnel!" While livestreaming, he, too, becomes involved in the Takanawa Tunnel collapsing incident and wanders into Da'at. "Yow! Sheesh, ceiling's pretty low… Pretty dark in here, too. Looks dangerous." He embraces Bethel's call to action and swears to fight the demons, hoping to prove his worth for a noble cause. – Look, I'm borderline useless at school… And I'm always making trouble for other people. "But even a guy like me wants to be someone people can turn to!" "Oh, um… hi there."
Miyazu Atsuta (voiced by Ryou Hirohashi) – Yuzuru's little sister and only living family member. "Uh, would you mind checking up on my brother?" Shy and reserved, she's often seen visiting the nurse's office. When Jouin High School is assaulted by demons, she, too, is caught up in the chaos. "I know he's always looking after me, but… I get worried about him, too."
Hayao Koshimizu (voiced by Kenjiro Tsuda) – Prime Minister of Japan, Chief of the Bethel Japan Branch. Japan's prime minister and Bethel's main representative of the Japanese branch. "My name is Koshimizu. I'm in charge here in addition to being Japan's Prime Minster." Calm, collected, and strategic… "Apologies for dragging you into this." …he offers the demon summoning program to Ichiro and friends, asking them to assist Bethel. "Thank you. I admire your courage."

The protagonist obtains newfound, supernatural powers after wandering into Da'at. Upon safely returning to Tokyo, he joins Bethel, an elite organization devoted to fighting demons, and swears to protect Tokyo, along with his classmates.

However, a band of demons suddenly attacks their academy. Will the protagonist and his friends be able to protect other students? And what is the motive behind the legendary demon that awakens in Da'at, the "other" Tokyo?

You just watched the introduction of the new characters. It's exciting to imagine what story will ultimately unfold from this cast.

Battle Features: Magatsuhi Skills

Next, we will introduce new battle features. Let's take a look.

During Press Turn Battles, your actions will gradually fill up the Magatsuhi Gauge. Once full, you can activate special moves called Magatsuhi Skills. These can unleash powerful attacks dealing massive damage, as well as various support and healing skills. However, enemies can utilize these too, so beware. By strategically using these skills to your advantage, you're sure to enjoy an even wider range of tactical gameplay.

You just watched the latest battle feature: Magatsuhi Skills. It seems we may be able to enjoy a Press Turn Battle system that has evolved even further.

User Questions

PSA: We are always accepting messages from our viewers. We've been highlighting a few of them below. For this next segment, I'd like to read one out loud. We received the following message from @Mixbus:

"Congratulations on the upcoming launch of the game. I had a question, but will there be downloadable content maps to earn Macca and EXP, like there was for Shin Megami Tensei III: Nocturne HD Remaster?"

Yes, I'm happy to say that we do plan on preparing these. Please stay tuned for additional info.

Tweet your questions with the hashtag #AskSMT5. Please also continue to send along your messages and questions. We look forward to hearing from you.

Related News

And now, we would like to share some related news. Let's take a look.

Shin Megami Tensei V Purchasing Guide – Check out retail exclusive items!
July 21, 2021 – Famitsu Special Feature: Shin Megami Tensei V & Atlus 35th Anniversary article
July 28, 2021 – Shin Megami Tensei: if… available on Nintendo Switch Online's SNES catalogue!
Atlus 35th Anniversary merchandise, now on sale!
Shin Megami Tensei x MAGES – Shin Megami Tensei Lottery tickets go on sale in December 2021!

That concludes our related announcements.

Closing

It is now time to say farewell.

All the information we shared today will be updated on our official website. Please be sure to check it out, along with our latest trailer.

Here at Shin Megami Tensei V News, we plan to periodically deliver the latest information about the game. The next program is scheduled for late-August. We will see you again then.

Until then!
Atlus also updated the Shin Megami Tensei V official website with the above information.
Shin Megami Tensei V is due out for Switch on November 11 in Japan and November 12 worldwide. Read more about the game here. Watch the latest trailer here.
Watch the full program below.
Full Program
New Characters
Magatsuhi Skills