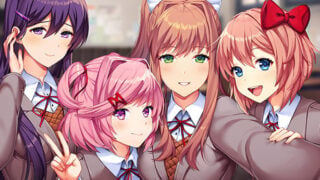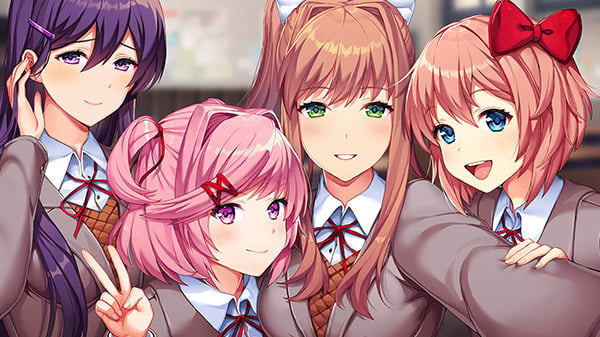 Doki Doki Literature Club Plus! sold 500,000 copies in its first two weeks of release, publisher Serenity Forge and developer Team Salvato announced.
"We're beyond ecstatic about the success of Doki Doki Literature Club Plus!," said Serenity Forge co-founder Zhenghua Yang in a press release. "In addition to publishing on digital storefronts over the past few years, we've been targeting an expansion into physical distribution as we see a market opportunity in that realm. We're very much still focused on digital as that's where the majority of fans prefer to purchase their games, but the retail success of Doki Doki Literature Club Plus! is a testament to our strategy entering the physical retail distribution space as well as a reflection of the love that fans have for this game. We're truly grateful for Team Salvato trusting us with Monika and her friends, and humbled by the love the fans are showing for the new content."
Doki Doki Literature Club creator Dan Salvato added, "I've had the opportunity to hear from so many fans about their experiences with Doki Doki Literature Club Plus!, especially the new Side Stories. We're all brought together through connecting with the club members and relating to their everyday challenges. It inspires us to take on our own challenges and be our best selves. It means so much to me that I can make a difference in that way, and I hope our feeling of closeness will never have to subside. I'm eternally grateful for it."
Doki Doki Literature Club Plus! launched for PlayStation 5, PlayStation 4, Xbox One, Switch, and PC via Steam and Serenity Forge on June 30. The PlayStation 5, PlayStation 4, and Switch versions are also available at retail.
Here is an overview of the game, via its Steam page:
Enter the #1 Psychological Horror Experience!

Welcome to a terrifying world of poetry and romance! Write poems for your crush and erase any mistakes along the way to ensure your perfect ending. Now's your chance to discover why Doki Doki Literature Club is one of the most beloved psychological horror games of the decade!

You play as the main character, who reluctantly joins the Literature Club in search of a romantic interest. With every poem you write and every choice you make, you'll charm your crush and begin to unfold the horrors of school romance. Do you have what it takes to crack the code of dating sims and get the perfect ending?

Now, the original mind-shattering Doki Doki Literature Club experience is packed with tons of new features and content exclusive to Doki Doki Literature Club Plus!

Key Features

Six new Side Stories about friendship and literature, totaling hours of new content.
Over 100 unlockable images including new game art, wallpapers, never-before-seen concept sketches, and more.
26 total music tracks, including 13 all-new unlockable songs by Nikki Kaelar, plus special guests Jason Hayes and Azuria Sky.
A built-in Doki Doki Literature Club music player to unwind with your favorite songs in a custom playlist, or loop a single track forever.
A high-fidelity visual upgrade with all artwork now in Full HD (1080p).

Meet the Literature Club!

Sayori – Sayori, your childhood friend, begins your story by recruiting you to the Literature Club! As a daydreamer full of positive energy, Sayori's greatest passion is to deliver happiness to others.
Natsuki – Natsuki tries to act tough, but her cuteness can make it hard to take her too seriously! She might be willing to warm up to good listeners who can respect her love for cute things.
Yuri – Yuri, the quiet bookworm, reserves her passionate side for those who can more deeply understand her enigmatic mind.
Monika – Monika, the superstar President of the Literature Club, will keep you on track for a perfect ending. Monika is always there to give you a guiding hand, both in literature and in love!

This game is not suitable for children or those who are easily disturbed.